Delphian
what does it mean?
pertaining to the oracle of Delphi; having several senses
Built around a sacred spring, Delphi was considered to be the omphalos - the centre of the world. People came from all over to have their questions about the future answered by the Pythia, the priestess of Apollo.
Preview of Cybersafety app for iPad
by Cecilie on Thu, 08/26/2010 - 13:04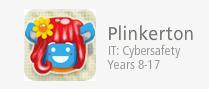 Look out for a cybergame in App-titude's Cybersafety app for iPad.
Previewed in draft at the Boys and Technology conference on Monday http://www.crowther.org.au/conference/.